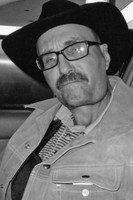 Monte Dean Salisbury, 58, passed away at Central Wyoming Hospice in Casper on Thursday, Jan 31, following a long struggle with cancer.
He was born March 20, 1954, in Auburn, WA, to Monte M. and Arlene Salisbury. Monte had lived in Casper since last March, and previously resided in Casper in the 1990's. He worked in construction during his earlier stay here.
Monte has touched the lives of many in Casper. He often referred to himself as a "warrior," living an adventurous and colorful life. He will be remembered for his grit and determination as he battled the pervasive cancer. He was assisted throughout the last several months by many friends, and by Central Wyoming Hospice, Amedisys Hospice of Casper, Wyoming Medical Center, Rocky Mountain Oncology, and The Good Steward.
He is survived by his mother, Arlene Salisbury; his sisters, Cathy and Kim; and brothers, Scott, Grant and Chad, all of the Auburn, WA area. He was preceded in death by his father, Monte M. Salisbury.
He will be cremated and interred with his father in Auburn. Newcomers Mortuary is in charge.